Celebrating our Local Heroes
They're often our most humble recipients.
The Australia's Local Hero Award recognises Australians making a significant contribution in their local community.
Image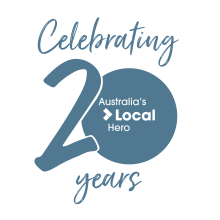 In 2023, we celebrate the 20th anniversary of Australia's Local Hero Award.
From delivering food to charities to making maths fun to advocating for victims of domestic violence, our heroes have created real change at a grassroots level and represent the values of mateship, generosity of spirit and a fair go for all.
Local Hero recipients lead by example and are the original influencers; role models who encourage others to be active in their own communities and become agents of positive change for a more diverse and inclusive Australia. 
Meet 2023 Australia's Local Hero Amar Singh
Amar founded the charity Turbans 4 Australia after experiencing racial slurs and insults because of his Sikh turban and beard.
He wanted to show people they didn't need to be afraid and began helping struggling Australians.
Image